Architects
With ArchSpec's years of experience and expertise, we can help you gain a competitive edge by understanding your needs. With trust as the cornerstone of our organization, we want to give our consumers access to information about the products they purchase—helping them make more informed purchasing decisions that will ultimately lead them down an immersive buying journey with all their desired outcomes in mind!
Consultation services to decrease your workload
The representatives at ArchSpec understand the local market and are up to date on all code and accessibility requirements. We ensure all state and federal law requirements are met in each and every job site and project.
When you work with ArchSpec, your satisfaction is our top priority. We understand that every project and job site has different needs so we'll tailor to those specific requirements without sacrificing integrity or performance.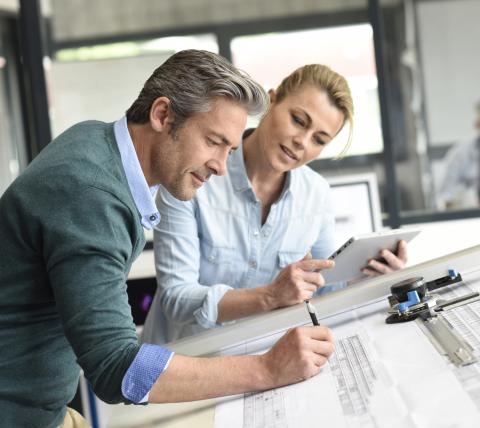 Testimonials
ArchSpec reps are knowledgeable about all of their product lines and provide thorough documentation on their commercial restroom products. They are able to understand the designer's vision and suggest alternatives if needed for cost efficiency. They are able to provide thorough specifications and check code compliance, which is critical in the commercial design industry, especially in restrooms. There are many components in commercial restrooms, and ArchSpec makes it easier to design by being a one stop information shop for this type of space!
- Evie Mock, Crosby Design
ArchSpec is a valued and trusted resource for product selection that is appropriate for our design. Highly recommend. They go above and beyond expectations to achieve our goals. I look forward to future collaboration."
- J. Hathcox, Smallwood
I direct my employees to ArchSpec for any specialty equipment or toilet partition needs. I know they'll get the help they need and the right product for the project.
- Anonymous
Collaborating with someone who is fully versed in their business product goes a very long way in not only establishing a professional relationship, but also in ensuring that the client ends up with a Deliverable end product that they are very happy with.
- A. Reyes, Boultinghouse Simpson Architects
Offering free consultations
We specialize in providing construction consulting services focusing on expertise and your satisfaction. Let us help you with the requirements of your next project.
ArchSpec — Georgia
  PO BOX 851
Rome, GA 30162